Dansk - mellemniveau 2 (B1) - online
Start
16.08.2021
Period
16.08.2021 to 22.09.2021
Lessons
24
Class no.
06053-21
Teacher
cand.mag. Louise Storm

Location
online
Room
Zoom
Time
Mon 14:30 - 16:00
Wed 14:30 - 16:00

Price
DKK 1,370
Time
Mon 14:30 - 16:00
Wed 14:30 - 16:00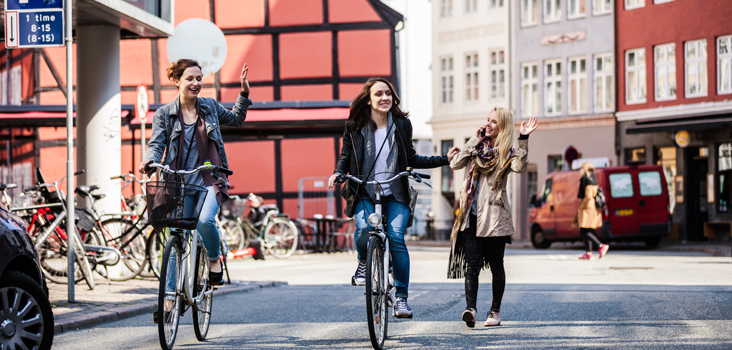 Tal, læs og skriv dansk!
Holdet er for dig, som enten har svært ved at møde op på Studieskolen eller blot foretrækker at lære sprog online. Det kan være, du har en travl hverdag, rejser meget, bor uden for København eller ønsker at effektivisere tiden, du bruger på at lære dansk.
Der er to mødegange om ugen, men de foregår online, så fysisk behøver du ikke være i København.

Et onlinekursus kræver en del selvdisciplin, så for at du får noget ud af kurset, er det vigtigt, at du arbejder selvstændigt med dansk uden for de to gange om ugen. Du skal forberede dig og lave dit hjemmearbejde. Til gengæld tager vi hensyn til, at du har en travl hverdag, så der er ikke meget hjemmearbejde mellem de to mødegange

Vi fokuserer på, du bliver god til at kommunikere på dansk. Det gør vi ved at tale meget, dele vores erfaringer og løse opgaver sammen.

På kurset Dansk - mellemniveau 2 bliver du både bedre til at tale dansk, og du får endnu mere styr på din grammatik. Du udvider dit ordforråd - både mundtligt og skriftligt - inden for forskellige emner, og når du er færdig med kurset, kan du læse og fortælle om korte avisartikler på dansk.

Vi arbejder bl.a. med disse emner:



uheld og ulykker, om alt det, der kan ske til hverdag og fest


sygdom og sundhed


livshistorier


personer vi beundrer


held og uheld


Du lærer både at tale og skrive om emnerne, og du får øvelse i at udtrykke din mening og diskutere et emne med andre. Vi fortsætter med nutid, datid, førnutid og fremtid, og vi laver øvelser med forskellen på når og da og forskellen på om og hvis.
Du lærer forskellige danske talemåder og metaforer.
Vi arbejder også med gradbøjning af adjektiver, adverbier, tidsudtryk og en masse andet.
I løbet af kurset skal du aflevere 4 opgaver, som du får feedback på.
Vi laver lytte- og videoøvelser, så du bliver endnu bedre til at forstå dansk.
Hver gang arbejder vi med udtale.
Hvordan foregår undervisningen?
Du skal arbejde ved computeren med lytteforståelse, læsning og skriftlige øvelser. To gange om ugen er der fælles undervisning online, hvor vi arbejder med mundtlig dansk og samtaleøvelser. Vi træner også udtale og laver lidt grammatik.
Undervisningen foregår kun på dansk.
Praktiske oplysninger
Kurset er for dig, der kan noget dansk i forvejen, fx hvis du har taget Dansk for begyndere 1 og 2, Basisniveau 1 og 2 samt Mellemniveau 1 på Studieskolen eller modul 1 og 2 samt noget af modul 3 på et sprogcenter.
Vi forventer, at du bruger 8 timer om ugen på hjemmearbejde.
Det er nødvendigt, at du har adgang til en computer med god internetforbindelse og webkamera. Det er også en fordel, hvis du har erfaring med at bruge digitale værktøjer og tilegne dig viden gennem onlineundervisning.