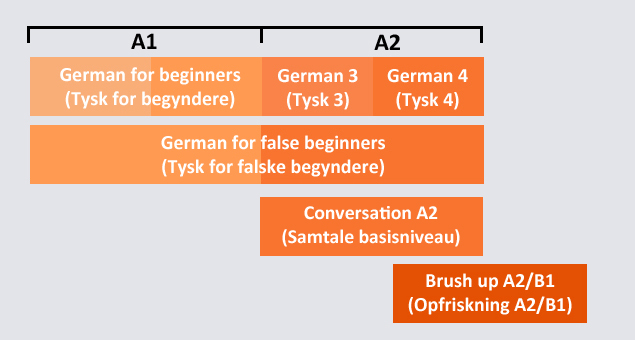 Basic level A1-A2.
For beginners who know no German or students who have a basic knowledge of German. You will learn to communicate in everyday situations about common subjects. You will learn to read and understand easy texts in German, and you will learn the basic grammar needed.

Brush up – if you want to brush up your German on basic level A1 and A2.

Intermediate level - B1 and B2
If you have followed our basic level German courses or if you have learned German in elementary school or in high school.

Our intermediate courses are divided into two levels: B1 and B2.
Each of the two intermediate levels consists of a total of four courses.
The courses have different content, and you will study different subjects and grammar in each course.
You can take the courses in the order that suits you – you do not need to follow a particular order.
You have to go through all eight courses to complete the intermediate level.
At the intermediate levels, you will expand your vocabulary. We will repeat and learn more grammar, and we will read German texts and practise a lot of German conversation.

Advanced level - Conversation for advanced students with knowledge equivalent to high school. You can take the courses alongside Teacher Training College or a BA exam in German.

Studieskolen's courses follow the European Framework of Reference. German 1-2 cover Basic level A1, German 3-4 and brush up cover Basic level A2. German intermediate levels cover B1 and B2 in the Framework of Reference. The courses at advanced conversation level follow the Advanced level C1.

Find the right course - take a free German language test.