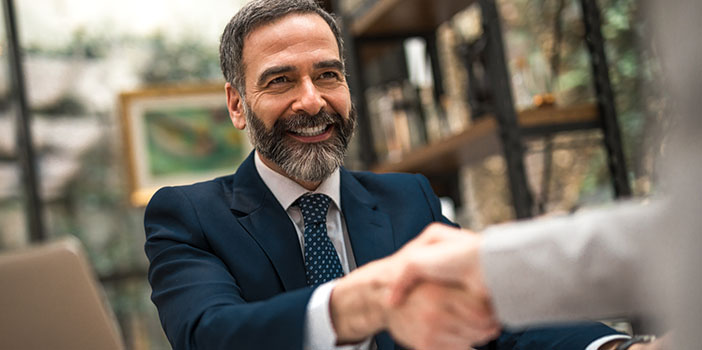 Do you – or someone in your company – need to learn, or get better at, Italian?
Generally speaking, Italians are not very good at English, and that goes for Italian businesses, too. A survey from 2019 shows that the English skills of Italians ranks 26th of all nations in Europe – in other words, fairly low. Of course, this doesn't mean that your business partners in Italy don't speak English at all. But it does mean that if you want to make a real connection, it is of monumental advantage to you to speak even just a little Italian.

If you work for a Danish business, you have a lot to gain by speaking Italian. Italy is one of our largest export markets, but competition amongst Danish business for Italian deals is fierce. If you are the one supplier or partner that speaks with your Italian counterparts in their mother tongue, it gives you many benefits:
You stand out and clearly show that you are willing to do something extra for this partnership
You will be able to reach a different depth in your conversations because your partner will understand you better and you can have more nuanced and detailed conversations
You get to know your partners better because they are more relaxed when they talk to you
There can be many reasons you want to get better at Italian now. Perhaps you:
Just started a new job or have new responsibilities that involve working with Italy
Need to step up the partnership you have with your Italian clients because you are making a bigger push for the Italian market
Are attending concrete meetings or a conference and you need to be better at Italian for very specific conversations
Whatever your reasons for considering strengthening your Italian skills now, one of Studieskolen's business courses in Italian may be what you need. We offer one-to-one lessons as well as group lessons for your entire team.
Why you should choose Italian courses at Studieskolen
At Studieskolen, we have more than 40 years' experience teaching foreign languages. All our teachers have a university degree and receive our internal training in teaching a foreign language before they teach our clients. We continuously hone our teaching methods and we also teach Denmark's upper secondary education ('gymnasie') teachers how to teach foreign languages using our methods. We know that the language teaching you receive at Studieskolen is in a class of its own.

We always target our business courses to your specific organisation because each individual organisation has specific needs:

Your classes must be efficient so that you quickly learn exactly what you need – and not all kinds of other stuff. For this reason, we base our teaching on the tasks you have to accomplish.

If you need to improve your written Italian, we can go through the fundamental touches that make your emails and other texts look professional and 100% Italian. If you are making a presentation in Italian, we practise it until you can do it. And if you are attending an important meeting, we practise the entire conversation and drill the different outcomes the conversation might have.

For most of our business clients, it is of great importance that we plan all teaching based on their specific field. This is because when you know the terms of your trade, you have the foundations for taking control of a conversation and any grammatical errors become less important. If you are already familiar with the most important terms of your trade in Italian, then we can concentrate on the grammar, your pronunciation or on making your language more fluent.

In many places of work, it is also important to know the cultural codes that apply to doing business in Italian, so of course, we cover those too.
Ready to make a plan?
If you want to start your Italian course now, we can usually have a plan ready within a very short time, often within one week. This applies whether you are an absolute beginner or already speak some Italian.

Before we can give you a concrete offer, we need to hear a little more about your needs and about how many you are. We are happy to visit and have a non-binding talk with you, your manager or your HR consultant, if you prefer. We can also meet online using Teams or similar.

The classes can take place in our classrooms in Borgergade, at your location or online