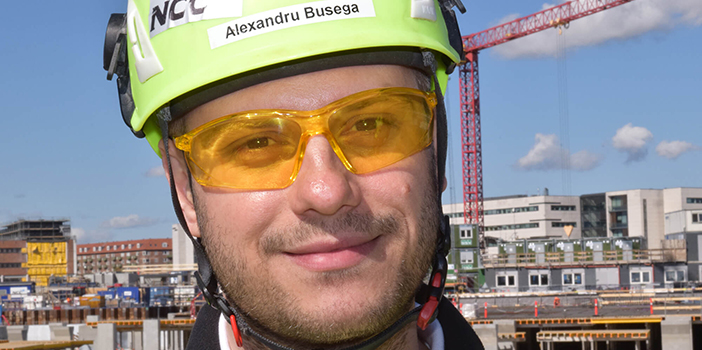 NCC was key to finding dream job
Alex' big breakthrough came at a job interview with NCC in 2019 that led to an exciting internship. Since then, things have progressed fast, and today Alex holds the position of Assistant Production Manager and speaks practically fluent Danish. The road leading here has given Alex some interesting insights. One of them is the importance of speaking Danish for your career.
Success loves company
Just as his career finally got going, Alex also won a place to study for a master's degree at DTU - Technical University of Denmark. Alex had to keep up with his studies at the same time as managing his job, Danish courses and of course life and free time at home with his girlfriend. There were simply too many plates spinning at the same time. After about a year, Alex decided to put his master's studies on hold: Good Danish skills were more important for his professional progress than more technical knowledge.
Making an extra effort at Danish with Studieskolen
In order to get even better at Danish, Alex and his manager at NCC agreed to let him participate in one-to-one classes through Studieskolen's flexible and tailored solutions for businesses. It involves the teacher coming to the place of work and conducting the lessons there – once or several times a week, according to preference. During periods of lockdown due to coronavirus, the lessons were conducted online.

Alex has this to say about his work with Danish teacher Bent Børme:

"Bent has taught me to use Danish every day at work. I am good at technical terms, but I lack everyday Danish phrases. In our one-to-one lessons, we focus on the things I need the most. Even though we have followed a plan for module 4, we have made an extra effort to practise pronunciation. For instance, I have a hard time saying "espresso" in Danish because we don't have that R-sound in Romanian. And it has really helped - now, my colleagues understand me."

"I have also learnt new expressions in Danish. Sometimes I ask Bent about specific expressions I have come across at work. Like the time my manager wrote, "Der hersker tvivl om…". Bent helped me by using the expression in different examples so I understood the meaning and learnt to use it myself."
Three tips from Alex for getting even better at Danish
Read a lot in Danish. Preferably something you find interesting.
Alex reads the magazine "Ingeniøren" for two hours every day. Often while enjoying a good cup of coffee.
Ask Danes in Danish if you don't understand. People want to help.
Alex often asks his colleagues about words in Danish. They love explaining the meaning. And if he can see that they are busy, he just waits and asks a little later.
Persist. Persist. Persist.
You have to persist in speaking Danish, even if you make grammatical mistakes. The first thing you need to learn is pronunciation, then you can really start communicating.
Danish skills and teamwork go closely together
"I think you have to be good at Danish to be a part of Danish work culture. Understanding internal jokes. Being a part of a community at work. It's all important," stresses Alex.

It is important to Alex that he is able to take part in small talk at the building site when the team takes a break from work and just spends five minutes chatting. Understanding internal references and comments help him feel part of a community.

By speaking all this Danish at work, Alex has 'overtaken' his girlfriend, who is also Romanian. She has passed the PD3 exam, but she mainly speaks English at her job. So, Alex has found that he is getting to a point where he speaks Danish more fluently than she does.
Read more about Studieskolen's flexible and tailored solutions for companies here.