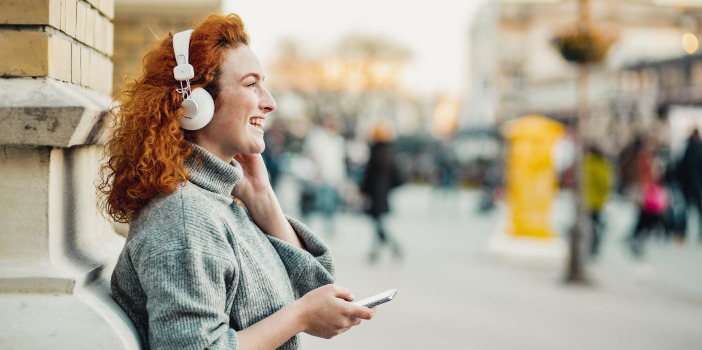 Are you learning Danish or another foreign language? Then read on for seven ideas that can help you get better – even outside of language class. They are good tips that are useful for everyone – whether you're a beginner or already speak the language well.
Most ideas are free to use. It's all about getting more language into your everyday life and using it as much as possible.

Learn languages while relaxing in front of the TV
A lot of us like to relax by watching films and TV shows. Why not combine this with your interest in languages? You can find films and shows in many languages across various streaming platforms. If you're learning Danish, the international hit series Borgen is a good bet. Among those interested in Spanish, La casa de papel (Money Heist) is a worldwide hit, and if you like French, you can watch the acclaimed series La Mante.
You don't need to subscribe to a streaming service in order to watch foreign films and shows. On dr.dk, you can stream shows in languages such as German, Swedish and of course Danish – for free. Another good place to look for films in many languages is filmstriben.dk. For example, they have a lot of good films from Japan, Korea and other Asian countries that you can watch for free.
A good tip: Sometimes you have the option to select subtitles in the original language. It adds a little extra to both hear and 'see' the language at the same time.

Follow the trend: Listen to podcasts and audiobooks
Are you, like many others, fond of listening to podcasts and audiobooks? Why not kill two birds with one stone and combine it with learning a language? For most languages, you can find lots of podcasts in your podcast app in the language you are learning. They span anything from traditional documentaries over storytelling to podcasts specifically targeted at language learning.
In some countries, libraries or public radio stations offer free downloads of audiobooks. Italy is one of those countries, so if you are interested in Italian, you can make use of that. If you enjoy reading literature, audiobooks are a good alternative way of hearing a language as a part of everyday life. Of course, you can also buy foreign audiobooks.

Read, read, read
It's no news that you can learn more of a language by reading. You see familiar words in different sentences and contexts, and perhaps you learn some new words, too. If you have not yet reached an advanced level in your new language, then pick some easy readers (you might be able to find some at your local library). If you are at a high level, then you have probably already discovered what a joy it is to read new literature in its original language.
There is no need to read the gigantic thick volumes of literature's classics in order to benefit from reading. Grab a magazine or a newspaper. Read the news online, it's free. You can also read comics in their original languages, such as Tintin in French, Corto Maltese in Italian or Valhalla in Danish.

Background music
You can easily stuff a lot of language into your daily life by listening to music in your target language. Why not listen to music while cleaning, taking a walk or sitting on the train? There are so many options for listening to the language you want to learn, such as YouTube or Spotify. If you want to get even more out of it, you can read the lyrics while you listen. Many song lyrics are freely available online – all you need to do is google.
The website Lyricstraining is a very useful tool for training listening comprehension, vocabulary, spelling and much more. It has a wide selection of exercises related to different songs. If you're not familiar with it, then go take a look.
You can also use music and singing to train your own pronunciation. Sing along to the songs! Don't be shy, you gain a lot by trying to mimic the correct pronunciation.

Speak the language as much as at all possible
Do you sometimes struggle to find the right words when you're caught in a situation out in 'the real world'? You're not alone, most of us struggle with this.
The key point is being able to use your language actively – something you only learn by speaking the language a whole lot. Attending class a couple of hours a week is simply not enough. You need to use it actively in your daily life as much as at all possible.
If your class using teaching material with audio files, then listen to them – and repeat what is being said. Repeat it several times.
Have a conversation with yourself! You don't need to stand in front of the mirror; you can use your new language to narrate what you are doing while cooking dinner. Take a walk and tell yourself what you are seeing along the way. Perhaps wear headphones – that way passers-by will assume you are talking on the phone. Try to summarise an episode of television or the plot of a book.
Hopefully you will make some mistakes along the way, but that is only good. Because our mistakes are what help us learn.
Another excellent way to speak more is to find a language buddy who speaks or is learning the same language.

Find grammar exercises online
By now there is a seemingly infinite number of websites offering free grammar exercises. You can find free interactive exercises in many different languages if you need to brush up your verbs or pronouns – exercises that immediately show you if you got the answer right. They can be a good supplement and help you get your grammar in shape.

Eat local dishes
Food is a part of every country's unique culture. Of course, eating rugbrød doesn't teach you Danish, just like you don't learn Italian by eating pasta or Spanish by eating tapas. Nonetheless, there is a value to enjoying good food and taking in flavours and smells that remind you of the language you're learning. And you can always practice words and phrases or even learn some new ones while you're eating.

Happy language learning!